@Andreas_Marinopoulos
Each folder on your screen is a specific deployment model: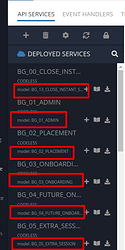 As I see it, all timers and handlers, for example, are deployed to the same model name - default. So when you deploy one timer/handler, all services that have that model name will also be deployed.
It would be better if each service had its own model.
Regards,
Marina