App ID:D3828E7D-B42E-B69F-FFFC-EFE55E612400
Hi guys, I want to make a table of ranking of players. In this table I'll have four columns:
Ranking, Player, Score, Division
How can I calculate the Ranking column based on first Division then Score?
For example these data objects: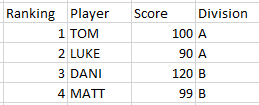 Players in division A will be considered first and then ranked based on their scores, after all A players are ranked, B division will continue the ranking based on their scores. And I need this to be auto updating when there are new entries or updates on the scores and divisions. Is it possible? Thanks!