Hi,
We are facing this error when we try to deploy service (using .zip file of size 1.35 MB).
We checked our usage and looks like we are way below usage limits for our plan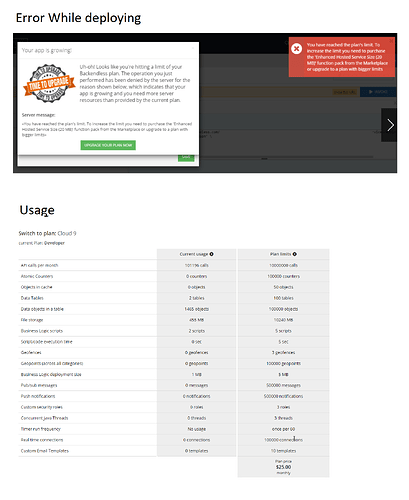 pasted both image in once as i wasn't allowed to upload two images!
In Slack chat we were advised to create a help topic. Please treat it with urgency as our all services dependent on Backendless are broken right now.
Backendless Version (3.x / 5.x, Online / Managed / Pro )
5.2.14
Client SDK (REST / Android / Objective-C / Swift / JS )
.net; our issue with Cloud console
Application ID
4E129FA8-ED2B-5021-FF84-966E95BC0D00
Expected Behavior
The file should had uploaded and services deployed.
Actual Behavior
As per the image above.
Reproducible Test Case
Not applicable
Please let me know if anything else is required to fix it asap.
Thanks in advance
Best regards,
Kinjal.