Hello community.
I have a Codeless method WriteHPdata that saves input object (method argument data) in specified table (method argument table_name) and set 1:1 relation between this new record and record in table HP_list that contains serial property = method argument hp_sn.
In HP_list table we have a list of devices that new records belongs to.
There is next issue: sometimes when we call method WriteHPdata new record is saved in specified table, but above mentioned relation is not set. Thus, in most cases method is executed completely, but sometimes only new record save (without relation set) is done.
Part of method that executes new records saving and relation set is below: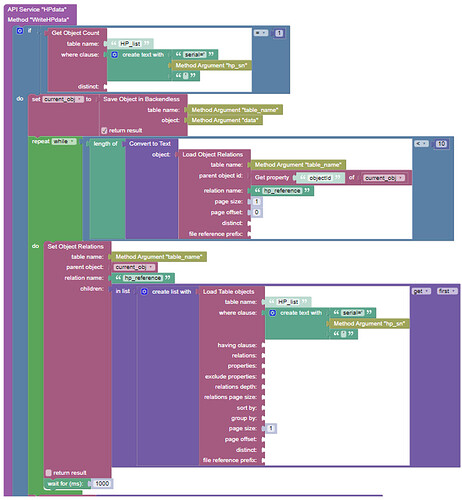 As we can see, I even add while operator and new record relation existence checking. I use Load Object Relations block to get a list of new record relations. Then convert it into the text. If the length of this text < 10, it means there are no relations. So, we should set it. But
In table we can see next situation:


Method WriteHPdata we call with same parameters (table_name, data, hp_sn). But in some cases (5/13) relation is not set. What is a reason of this?
One more moment. Sometimes in RT logs window I see next message: | SERVER_CODE | ERROR | [3505952] Error: The API request has been rejected because it requires scaling for processing. Switch to the Cloud9 or Cloud99 plan to enable the Super Scaling option. at checkStatus (/usr/local/lib/node_modules/backendless-coderunner/node_modules/backendless-request/lib/request.js:330:9) at processTicksAndRejections (internal/process/task_queues.js:95:5)
Can it be a reason of "partly" executed method WriteHPdata issue?