I am going around in circles here, BUT they are very productive circles…
I have tried to append an aggregate function (max) to a service in a webbrowser but cannot get it to work…I may be missing a ? or & or ' or whatever…so my question is, is it possible to combine a service and an aggregate function?
Or ideally, is it possible to create aggregate functions in codeless?
The detail…
I have the below which brings in records from table = UserWorkouts.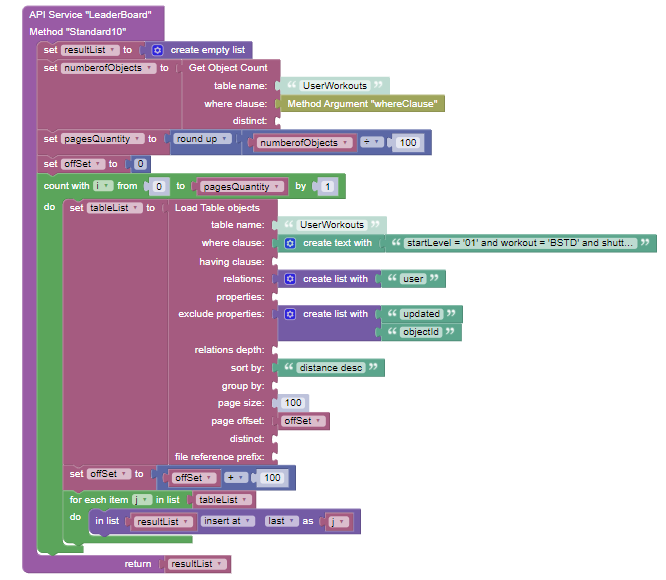 The purpose is 1) to remove pagination 2) bring related data from table = Users.
But the table = UserWorkouts contains multiple records for each user and I only want to keep the best one (which can be defined as the record where (column) distance is greatest. So I have sorted the records largest to smallest on distance, BUT cannot figure out how, in Microsoft Excel terminology, to remove the duplicates.
I have been playing around with aggregate functions and I can create one that does what I need (below)…but I wont have pagination removed or have the related data.
…….data/UserWorkouts?props=Max(distance),workout,ownerId,startlevel&where=workout%3D%27BSTD%27&groupBy=ownerId
I have tried to append the aggregate function to the service in a webbrowser but cannot get it to work…I may be missing a ? or & or ' or whatever…so my question is, is it possible to combine a service and an aggregate function?
The below brings back the entire table…
……/findObjectsWithPaging?tableName=UserWorkouts&props=Max(%27distance%27)
Hope this is clear.
Thanks
Paul