Hi I was successfully able to use the following "Load Object Relations" block to input the "parent object id" for a parent Company Table called "tbCompany" which loads "relation name" child objects like company contact info.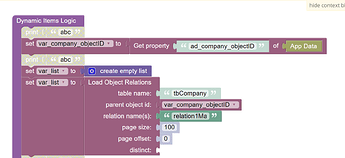 However I can't get this to work for a 1:1 related table called "tbCompanyVerbage" with what looks like a "parent type" relationship called "relation11c" pointing back to "tbCompany" eventhough it's supposed to be a 1:1 and not a 1:N.
Remember I currently only have the objectId for "tbCompany"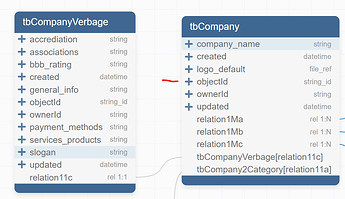 Unfortunately trying to use the the following "Get Object By Id" with an included "relations name" declaration doesn't seem to work either.

Bottom line… how do I use a data block which will query a 1:1 related "child object ID" to get a property from the corresponding parent table?
Thanks for your help!