I have a custom UI component placed within a surrounding box in UI Builder. Initially, it looks like this: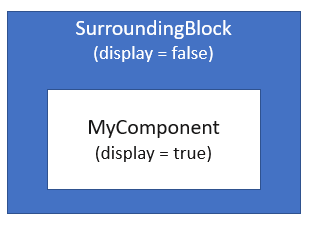 Further, I have a button with an onclick-action. This action shall make the surrounding block visible and then call an action selectImageof my custom component. When clicking on the button, I'm getting this error:
TypeError: Cannot read properties of undefined (reading 'selectImage')

It seems that my component is not rendered/available yet when I try to call the action.
This is my onclick-handler:


If I'm adding a wait-statement, then everything works nicely in sequence as expected:

How can I deal with that? Note, my SurroundingBlock can contain other UI components which I want to have appear all at once when toggling the visibility of SurroundingBlock. So, it's not enough to toggle the visibility of MyComponent, which works well.
Regards,