Good day,
In UI Builder i have a date time picker with custom format and Date Only Picker Mode.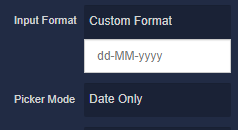 In the table the result will give the date the user has selected, but it will also show the time the user has selected that date. The field is a datetime field.

Is it possible to get only the date in this field? Or is there a way to always set the time to 12:00:00.
I am reformatting this date into another format so the user sees the date only.
But when the user is registering in the night till 01.00 the result shows the date minus one day.