Good Day,
I would like to use a search box to filter data on a dynamic list, now I know this is possible by using the "Load Table Objects" with the "where clause" being something along the lines of "name LIKE '% CHANGED VALUE %', I have shown a quick example of this below.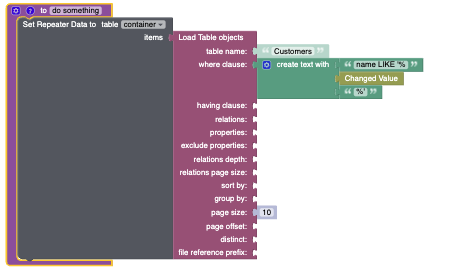 Now my problem is that i am trying to do the same search but instead I have already stored the Customers table in a list in "page data" during page enter. I would now like to filter the list on.
The reason why I am doing to do this is to firstly cut down on API calls and secondly this software will be used by independent companies who will have their own customers, therefore on page enter I have already filtered the customers who are related to the current user company.
Kindly advise me on the best way to filter customers (whom are linked to the current user company) using a search box.
Kind Regards
Donovan