Are you looking for help?
Backendless Version (3.x / 5.x, Online / Managed / Pro )
v5.7.2 (checked by hovering over Backendless logo after logging into develop.backendless.com.
Client SDK (REST / Android / Objective-C / Swift / JS )
REST
Application ID
4E129FA8-ED2B-5021-FF84-966E95BC0D00
Expected Behavior
Please describe the expected behavior of the issue, starting from the first action.
Expected behavior is proper data response (we get correct response pretty stably… started receiving error just now).
Actual Behavior
Please provide a description of what actually happens, working from the same starting point.
See the attached image, an auth related call is failing
error: 400 - Service invocation failed: Custom business logic execution has been terminated because it did not complete in permitted time - 30 seconds in BusinessLogicExecutionTimeoutException (14004)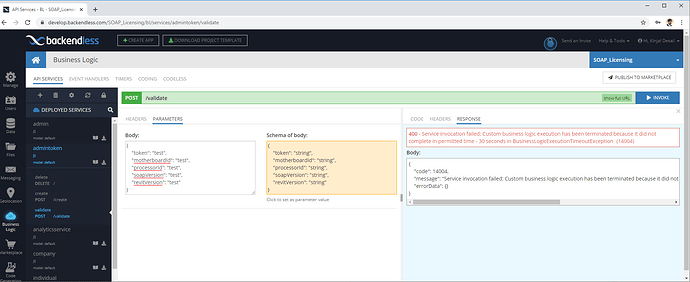 Reproducible Test Case
If you can access it, just post the request like in attached screenshot and observe it failing with "400 - Service invocation failed: Custom business logic execution has been terminated because it did not complete in permitted time - 30 seconds in BusinessLogicExecutionTimeoutException (14004)"