Hi,
I am trying to use transactions and have read and watched the related documentation. I am running into a puzzling case.
When setting up a transaction with 3 operations, the first one causes an error, although it is a "direct" upsert operation on the main table and I would have thought this would be pretty simple and straighforward.
When executing the same upsert operation beforehand with a classic API call, there is no issue.
For comparison, here is the working codeless logic, with the operation highlighted in green: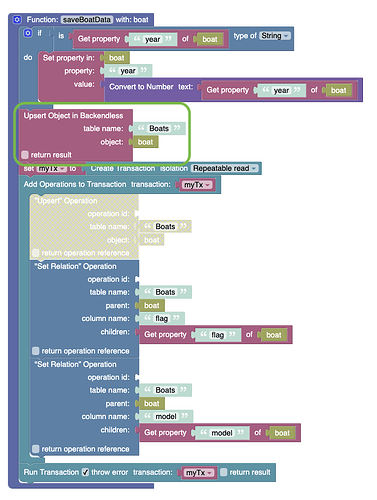 And here is the problematic codeless logic, with the operation highlighted in red: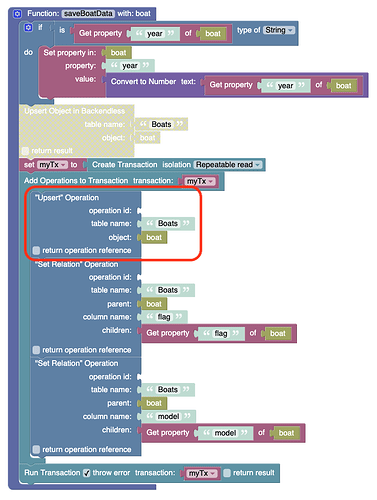 The error shows up in console and seems to happen before the API call is even sent. Here is the error code:
TypeError: 'deleteProperty' on proxy: trap returned falsish for property '___jsonclass'
    at _class.addOperations (sdk.js:14:1096349)
    at _class.upsert (sdk.js:14:1099023)
    at code.js:32:10
    at Object.fn_1326db6b3e3aff2a5b7cc37a6e85020d (code.js:36:5)
    at Object.onClick (bundle.js:74:84)
    at runHandler (sdk.js:14:561243)
    at i.available.t.<computed> (sdk.js:14:563310)
    at Object.Rb (sdk.js:14:1663575)
    at Xb (sdk.js:14:1663729)
    at Yb (sdk.js:14:1681746)

I have a working logic, albeit with 2 API calls instead of one, so this is not urgent. But I would still like to understand. Thanks for any pointers in the right direction.
I am aware that I may not have fully understood the way transactions are set up, but I found relatively little documentation or help in the forum. Sorry if this is a newbie mistake.