I have a view which has a point column. I get a location (also a point ) from the user
then I have a data table pointed to a view and the where clause returns all rows where the distance between the location column and the point from the user is < some number.
I'd like to add to my data table a new column that shows distance to XX (where XX was the location set by the user)
to be a little more clear
the user selects a coal sample from a table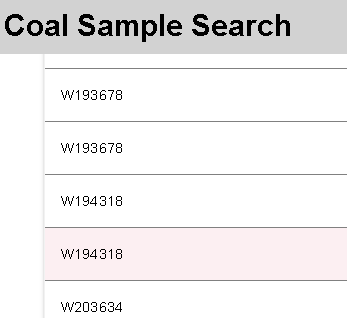 in this case W194318
then selects a distance and runs a search for all mines less than distance from the sample


this shows a table with all mines < 180 away from W194318


I would like to add to this table a column "distance_from_sample" and fill it with the distance between sample and mine location. since this is a search I don't want to alter the tables. I am not sure if this is possible and if it is how should I attack this? If there is a better way using some other structure than a data table I am all ears.
notes:
distance between sample and mine are searched using a where clause like this:
distanceOnSphere(location, 'POINT(-87.4189 37.1222)') < 289681.92

which in codeless looks like this


I convert miles (from the user) to meters for the distanceOnSphere
the distanceOnSphere is working as expected.
the sample location is in a different unrelated table from the mine location
Thanks,
H