Made a typo in the name. Is there a way to rename the app?
There is no way to rename an app after it is created. If you just created it and haven't put any work into it, just create it again. Then delete the miss-named app.
If you have put some work into it and want to save the data and pages, then you will need to Export everything and then Import all that into the new correctly named app.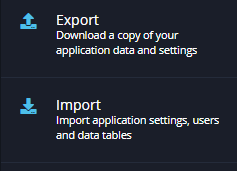 Hello @Townsend
Thank you, you described everything correctly, we are very grateful to you for that!
Hello @Sanjay_Iyer
In the event that you have already made some changes or you find it problematic to follow the steps described by Paul Townsend, then we could meet you halfway and rename the name of your application.
Please let me know if you still want to rename your application and, if so, its app ID and name to which you want to rename it.
Thanks.
I will try the export method first. There is some work done already, and more to do. If the name is just local to your system, maybe it doesn't matter at all.