Application ID 4A47197B-AE30-FA84-FF56-0071F4010900
table:parents
API service: getParents>getParents
Expected Behavior
I am pulling in an array of objects from an external API that contains a date_updated, an id and various properties:

I have items in my database that contain the same id.
I want to update my database from the external API only if the date_updated field in the DB is less than the date_updated field in the external API.
Here's what I have so far: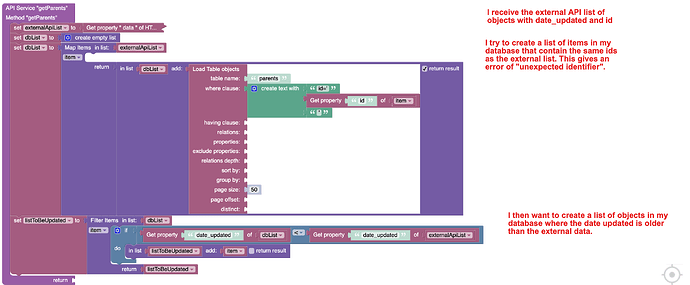 I am getting a strange "Unexpected Identifier" error linked to the Map Items or Load Table objects blocks, I am not sure.
I am also unable to clarify the logic I need to:
Filter out the objects that need updating
Create a list of the external API data that I can then use with a bulk update block. I somehow need to combine the objectids from the database with the external API data and I don't know how to do that.
Any pointers in the right direction would be much appreciated!