Hi team,
I think there is an issue with the order of events from when data is read from the database and when the UI refresh occurs.
I'll start with what I think the problem is. As soon as you try to load a database object in either the Before Page Enter or On Page Enter handlers the UI refreshes its elements on the page. However if a content logic handler references that object you will get an error because the UI refresh runs before the object is ready.
The example below is the flow that I can see from Before Page Enter then going to Page Enter and the error I get when referencing the data object in a Content Logic text element.
Below is the example. There is a Page with a repeater element (one record in the database) and a text element (in the blue area) that should also display the item "Try" from that database.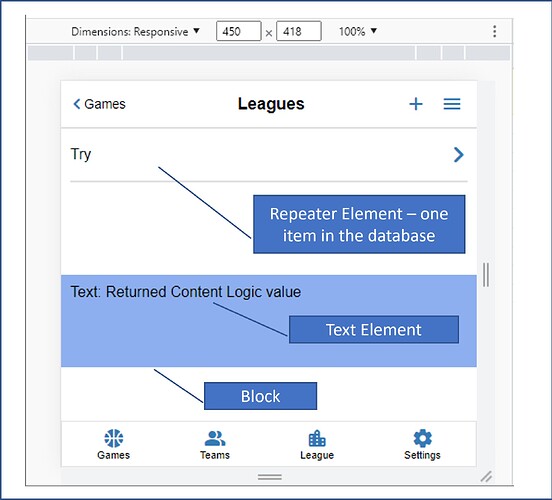 This is the error I get along with the print messages showing the application flow and when the error is triggered. Notice the completion of the On Before Page Enter handler is right at the end.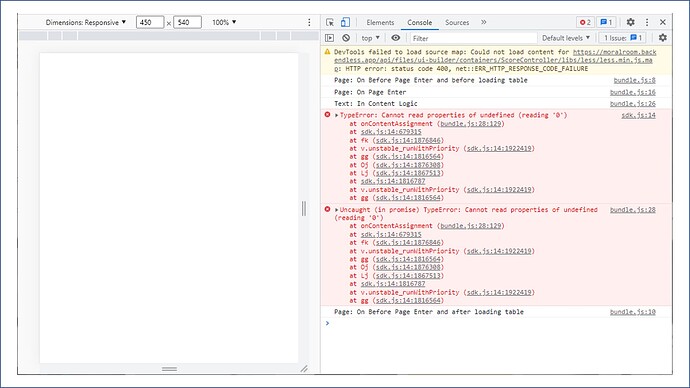 Here is the view in a flow along with the code that is executed on the page: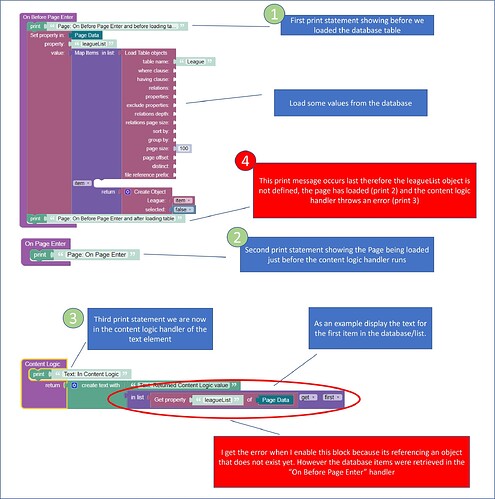 There needs to be a time when data can be loaded into objects without UI refreshes happening. I thought the reason for having "On Before Page Enter" was that you could load/define objects before the UI was initiated. So I think removing UI refresh operations from the "On Before Page Enter" handler could possibly work and leave the initial UI refresh operations to the Page Enter handler.
If you got this far… thanks. If I have it all wrong please let me know how I should be setting up database load objects.
Appreciate the support and the great product.
Thanks
Glenn