How to display an alert
The only way I have found to not show the display is to set visibility to false. ( so it will not show on page load )
to show the alert I set the title/message then change the visibility to true
But once the alert is closed ( via the close action ). This works as expected. but I'm at a loss on how to show a new alert. changing the visibility to true does not show the alert. what am I doing wrong?
how to use the closing duration
when I display the alert by using the visibility property of the alert, the closingduration is not used. The alert stays open until I click on the close button. My guess is using the visibility=true is not the correct way to display the alert but I have not been able to find a good example.

databinding for closing duration.
on the doc (https://github.com/Backendless/ui-builder-library/tree/main/components/bl-alert) it shows
closingDuration data binding = NO

however on the components page for alerts is says this is a data bindable property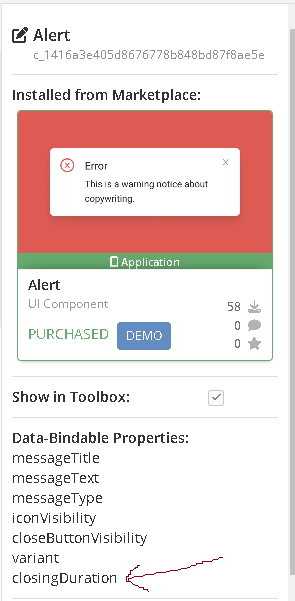 I can't find it on the alert handlers list in the logic for the alert.
Thanks for your help,
H