Hi,
We are exploring options for registering users from an external source. In this case, the external source is from Active Campaign. Since we don't really want to use Zapier (or similar) we decided to check out what other options we have.
We quickly found out that Active Campaign is able to sent out webhooks and (supposedly) we can process them in Backendless with Cloud Code.
First and foremost: We have little to no prior knowledge on how to use this and set this up. So what we have done so far is purely based on what I found out and think should work, so I might be completely wrong here!

Based on this post, I started setting things up, as it seems to be exactly what I want: Webhooks post from external source to database
The first thing I wanted to set up is a test scenario with codeless (but based on what AC documented here: Webhooks) which looks like this: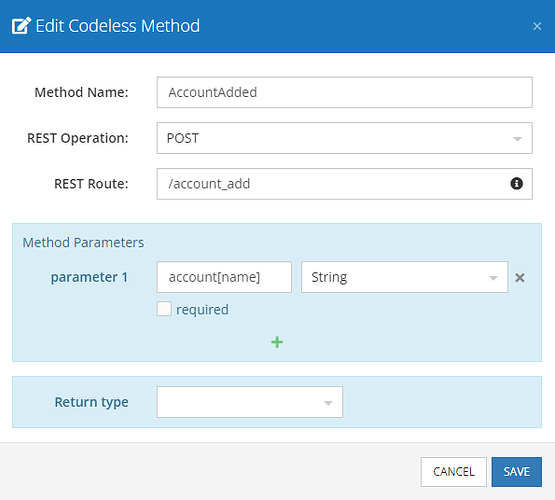 After setting it up, I tried invoking it with the name parameter. I got a 200 - Ok response, but there was nothing in the body, I actually expected the name (or key-value) there, so I might be misunderstanding what I can expect to be there.

The code would be
curl -X "POST" "https://springloop.springlab.nl/api/services/ActiveCampaign/account_add" \ -H 'Content-Type: application/json' \ -H 'Accept: application/json' \ -d $'"Johny"'
Then I tried to log the response, but nothing seems to be printed, so I'm obviously doing something wrong here!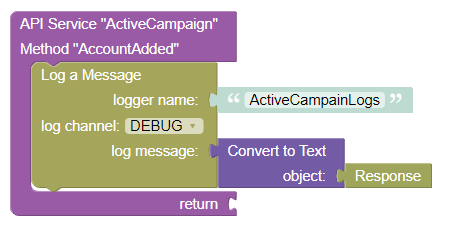 So, I might be doing things completely wrong here or misunderstand things. Any help in the right direction would be greatly appreciated!
In case it is needed, my app ID is: CB5F0D27-C339-A133-FFFF-06A6F3EC8700