Hi
This is more a suggestion than a problem. I have done a few of Mark's tutorials and they are really good and ui builder is impressive. But as soon as I attempt to go into new territory of my own, it seems there are hurdles. For example, I am trying to build a single page web app that has 3 select components and a text area component.
Trying to find a tutorial that shows how select components work has been frustrating. And I have still not found it. Knowing Mark, and how comprehensive his tutorials are, I bet there is one.
Can you point me to it please.
But here is a suggestion that I believe you should find invaluable.
Sprinkled throughout the UI Builder design interface you should put links to Youtube Tutorials that, somewhere in the tutorial, the topic being looked at by your user is being addressed or touched upon in some way. And you could have 2 or 3 links if there are multiple tutorials that touch upon the topic.
For example, the Select Component,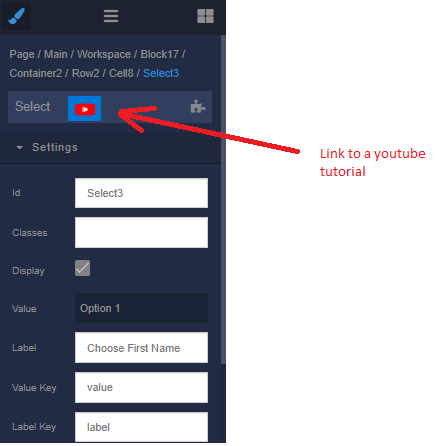 Hopefully you manage to pick up on this, it will make UI Builder far more penetrable for developers at my, or similar, skill level.
Kind Regards
BruceX