The Input component seem higher than necessary. In trying Theme Extensions I get this:
Inputs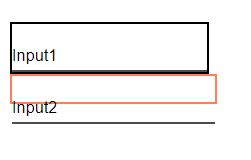 Input1 (class bdr – 'border: 2px solid black;') shows default height.
Input2 (class hth) sets the height (height: 30px;) and a border (border: 2px solid black;
border-color: coral;)
The preview shows the coral border around a 30px area in Input2, but the text and underline are outside, making its effective height the same as Input1.
Is there a way to reduce Input component height?