My Backendless application will be receiving a data object from an external API that looks like this: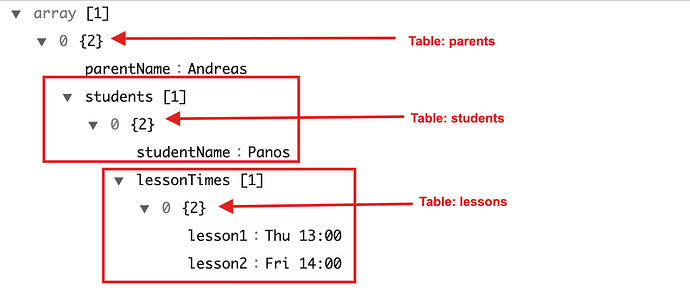 I break down the array and host it in 3 separate tables, one for parents, one for students, one for lessons. Each row of the parent table has a relation of 1:N with students, and each row of the student table has a relation of 1:N with lessons.
I would like to minimize the number of API calls and the processing time in Backendless.
My question is: what is the best way to structure this in Backendless Codeless?
Option 1:
Create a Timer that calls the parent array from the API and create/update rows in the parent table.
Create 2 more timers for the second and third tables, and one to set the relations.
Option 2:
Create a timer with one API call, store the students and lessons in the parent table as JSON objects
Then take the JSON object and create rows in the student and lesson tables.
Is this the right way to use the JSON schema in Backendless tables? Is there a best practice I should follow?