Mission: SERVERLESS 101
Task: Invoke the API Service using generated client SDK
Please, describe your problem here.
task is not understand what i and do and download file is incomplete
pls make vedio for codeless or andriod studio i m orking with only andriod app
how to complete task with backendless business logic
and
invoke all methods
Have you downloaded the generated Android/Java code for the API service?
i am downloaded the generated Android/Java code for the API service
but how can i run this ???
You can complete this mission simply by invoking these methods from your Backendless Console in the order described in the mission.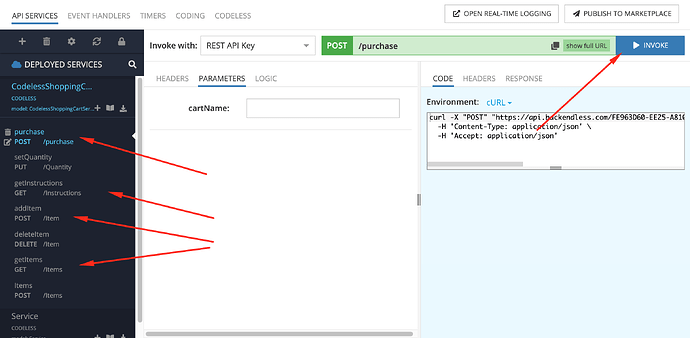 Hello, Denys! It's been the second day I'm struggling to complete this mission

I try to invoke these methods from my REST Console, but I can't figure out what kind of information I need to put into those fields ("cartName" and "name") I looked through all documents downloaded and even tried to find an answer in "Logic". Nothing works

I would REALLY appreciate if you could help me solving this particular case

Hi @Irina_Rozhko ,
could you please describe in more details what exactly you are doing?
Also these topics might be useful for you:
Regards,
Stanislaw
Thank you very much for such a quick reply! The second topic was helpful. I've completed the mission and now I can move on! Thank you again


Respectfully,
Irina.
Glad to hear it and welcome to our community!
Regards,
Stanislaw